Peggy Judy
Peggy Judy Fine Art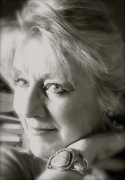 Biography
Peggy Judy was born to be an artist. She realized that even as a child. Her destiny was sealed by one important fact: she was smitten by the natural beauty of her native Colorado. So, she painted and drew throughout her high school and college years. Upon graduation from Colorado State University in 1982 with a Bachleor of Fine Arts and a concentration in illustration, she began her professional career as an illustrator, working for various corporations and the Dept. of Energy, all in the Denver area.
When she married a equine veterinarian in 1988, Peggy was able to meld her passion for all things "horse" with her art, although she spent much of her time breeding, raising, training and selling Warmblood Sport horses. Today, having raised her two children (both are accomplished horsemen!), she has more time for painting and a renewed vigor for it.
In 2013, Peggy Judy won First Place or Best in Show at the Tesoro Spanish Culture and Western Art Show in Morrison, CO, and the Fine Arts Festival in Golden, CO. In 2014, she will be included in two museum exhibitions: The Mattatuck Museum in CT and The Rockwell Museum of Western Art in New York.


Recent Awards and Exhibitions:
2015 Stampede Western Invitational Art Show and Sale, Greeley Stampede Rodeo
Jan. 2015 "Color and Form" Two person show, Korologos Gallery, Basalt, CO
May 2015 "Departures and Arrivals" Three man show, Elements 5280 Gallery Greenwood Village, CO
Jan. 2015 Coors Western Art Show and Auction Denver, CO
Sept. 2014 Evergreen Fine Art Fall Juried Show 3rd Place "The Stampede"
June 2014 Elements 5280 Gallery Show "Four Perspectives"
2013 1st Place Western Art, Tesoro Spanish Culture and Western Heritage Art Show, Morrison, CO (Jurors: C. Patterson, former Chief Conservator Denver Art Museum, J. Herold, Curator Emeritus of Ethology at Denver museum of nature and Science, M. Brown, Mayer Center Fellow in Spanish Colonial Art, Denver Art Museum.)
2013 1st Place Painting Category, Golden Fines Arts Festival Golden, CO
2012 Best of Show Award Tesoro Spanish Culture and Western Heritage Art Show, Morrison, CO
Independence Gallery, "Women and the Power of the Horse" Sept. 2012 Loveland, CO
"Ken Ratner Collection" Mattatuck Museum, CT January 2014
The Rockwell Museum of Western Art New York, NY Exhibition Sept. 2014
Mattatuck Museum, CT. Spring 2014
Bone Creek Museum, Nebraska Summer 2014
St. George Museum, St. George, UT 2015